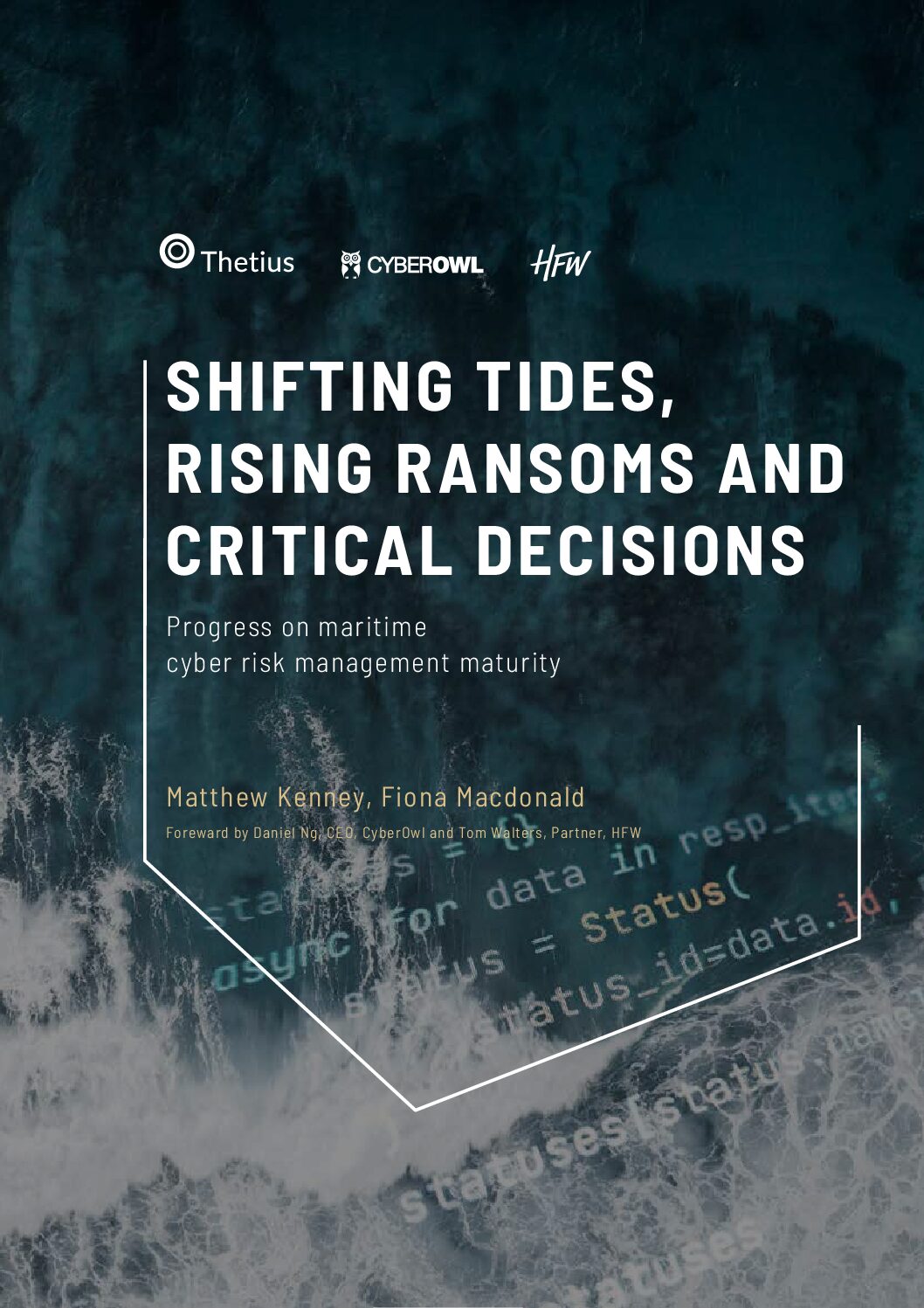 Shifting Tides, Rising Ransoms and Critical Decisions: Progress on maritime cyber risk management maturity
The cost of cyber attacks is on the rise. Hackers are demanding greater ransom payments than previously and those targeted have little choice but to pay the price. Latest research shows that while the number of attacks appears to have stabilised, the cost to organisations is up by nearly 200% since early 2022.
When it comes to ransom, companies are paying on average $3.2 million. But what's most alarming, is the demand for these payments. Since 2022, the frequency of ransom payouts has risen by more than 350%.
But it is not all doom and gloom. There has been progress in addressing cyber security concerns. 83% of shoreside employees at shipping companies believe that their organisations regularly conduct cyber training and drills.
Research conducted by Thetius in collaboration with CyberOwl and HFW suggests that there is a new approach towards managing cyber risk. However, the industry remains an easy target and finding new ways to outsmart cyber criminals is an ongoing task.
Our latest report delves into the shift we are seeing in cyber security and risk management.
Download the free report
Examines recent progress in maritime cyber security and the current growing pains
Presents 2023 survey results on maritime cyber risks and provides a comparative analysis with our 2022 findings
Investigates the changes in skills required of key players as the cyber landscape shifts
Presents key case studies and examples of recent cyber incidents, their management, and lessons learned

Examines how the shipping industry can work with its trade partners to ensure that cyber security is threaded consistently throughout the supply chain
Cyber attacks have cost organisations on average more than US $545,000 over the last three years. This is a 200% increase since our 2022 research. 

Ransom payments remain high. The average price paid for ransom is now US $3.2 million. 

But the demand for ransom payments has skyrocketed. It has increased 357% since 2022. 

23% said that they had been tricked into transferring funds.

There is significant uncertainty around insurance cover and claims. 42% are unclear about whether their organisation has an insurance policy in place, while 25% believe there is no insurance in place.

Despite these figures, awareness is increasing and companies are investing more into cyber security. 33% of respondents say their organisations spent less than US $100K on cyber management, whereas in 2022 this figure was 54%.

The potential severity of attacks is increasing and there are three key roles that are most impacted by the changing cyber risk landscape – risk management, IT management, and fleet safety management. Understanding the level of risk across these key roles needs work.

Brought to you by HFW, CyberOwl and Thetius
Download the global industry report here
Shifting Tides, Rising Ransoms and Critical Decisions: Progress on maritime cyber risk management maturity
Please complete your details below to register to start your free download
By entering your details here you are providing CyberOwl with personal data. We will share these details with Holman Fenwick Willan LLP (HFW). Please see HFW's privacy notice, and CyberOwl's privacy policy for details of how HFW and CyberOwl will process your personal data. HFW is a global law firm who we are collaborating with to provide a joint cyber security solution.
CyberOwl Ltd will be a controller of your personal data when you submit your personal data through this form. HFW will also be a controller of the personal data we share with it.
For more information on our HFW Cyberowl joint cyber security proposition
visit https://www.hfw.com/cyberowl-hub
For further information on CyberOwl visit https://www.cyberowl.io

Holman Fenwick Willan LLP is a global law firm with deep, sector-focused expertise. For more information on them please visit https://www.hfw.com