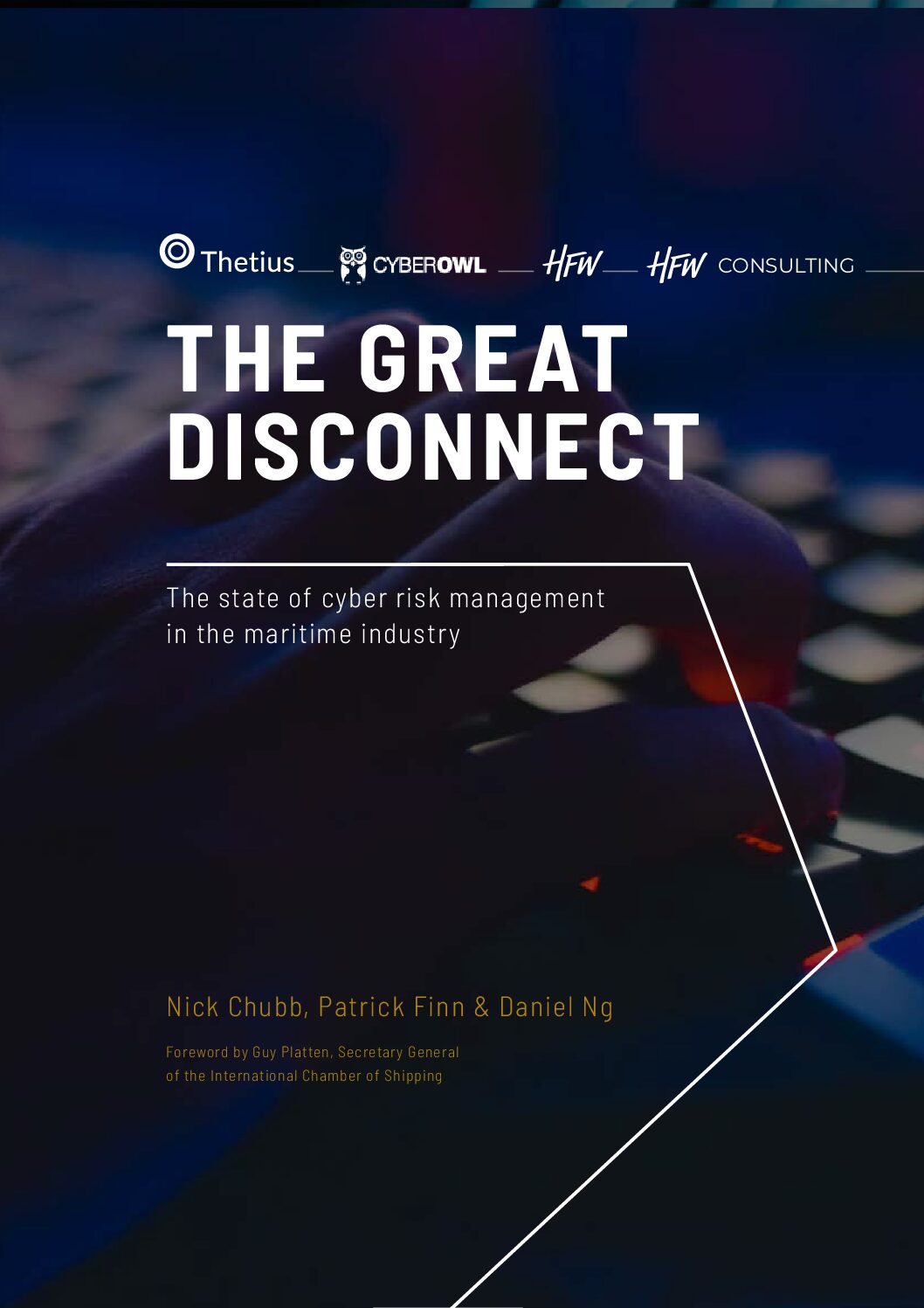 The Great disconnect: the state of maritime cyber risk management
In the last few years, the maritime industry has made great progress in improving its approach to cyber risk management, but significant gaps remain.
This report explores the gaps that exist between the industry's perceptions of cyber security and reality, taking into account the views of more than 200 stakeholders from across the industry, including cyber security experts, seafarers, shoreside managers, industry suppliers, and C-suite leaders.
The research has uncovered three great disconnects that exist across the industry where expectations and reality don't match up, cyber risk management efforts are lacking, or risks that are unique to maritime exist. These industry disconnects exist not just internally within maritime organisations, but across the maritime supply chain, and in how the industry approaches investment and risk.
Download the free report
Contains an analysis of maritime cyber threats including who targets the maritime industry and why.

Includes the results of an industry-first survey on attitudes to cyber risk management.

Explores where maritime organisations need to improve their internal cyber security management.

Examines the cyber risks that are included in the maritime supply chain.

Investigates the maritime industry's relationship with cyber risk including insurance and legal issues.

Makes recommendations to the industry on how to improve cyber risk management.
The financial cost of a cyberattack can be extreme: where they lead to a ransom payment, the average ransom paid by shipowners was US$3.1 million.
Despite this, most shipowners significantly under-invest in cyber security management: more than half spend less than US$100,000 per year.
Two-thirds of industry professionals don't know whether their insurance covers cyberattacks.
Only 55% of industry suppliers are asked by shipowners to prove they have cyber risk management procedures in place.
More than 25% of seafarers don't know what actions would be required of them during a cyber incident.
Within organisations, the more senior someone's role, the less likely they are to be aware of a cyberattack.

Brought to you by HFW, CyberOwl and Thetius
Download the global industry report here
The Great Disconnect: The state of cyber risk management in the maritime industry
Please complete your details below to register to start your free download
By entering your details here you are providing us with personal data. We will share these details with CyberOwl. Please see HFW's privacy notice, and CyberOwl's privacy policy for details of how HFW and CyberOwl will process your personal data. CyberOwl Ltd is a company specialising in cybersecurity.
Holman Fenwick Willan LLP will be a controller of your personal data when you submit your personal data through this form. CyberOwl will also be a controller of the personal data we share with it.
We use cookies and tracking technology to see whether emails are opened or replied to, and whether links are followed. This information helps us to improve the services we offer and to tailor our communications with you.
For more information on our HFW Cyberowl joint cyber security proposition
visit https://www.hfw.com/cyberowl-hub
For further information on CyberOwl visit https://www.cyberowl.io

Holman Fenwick Willan LLP is a global law firm with deep, sector-focused expertise. For more information on them please visit https://www.hfw.com