Welcome to Cybersecure at Sea 2023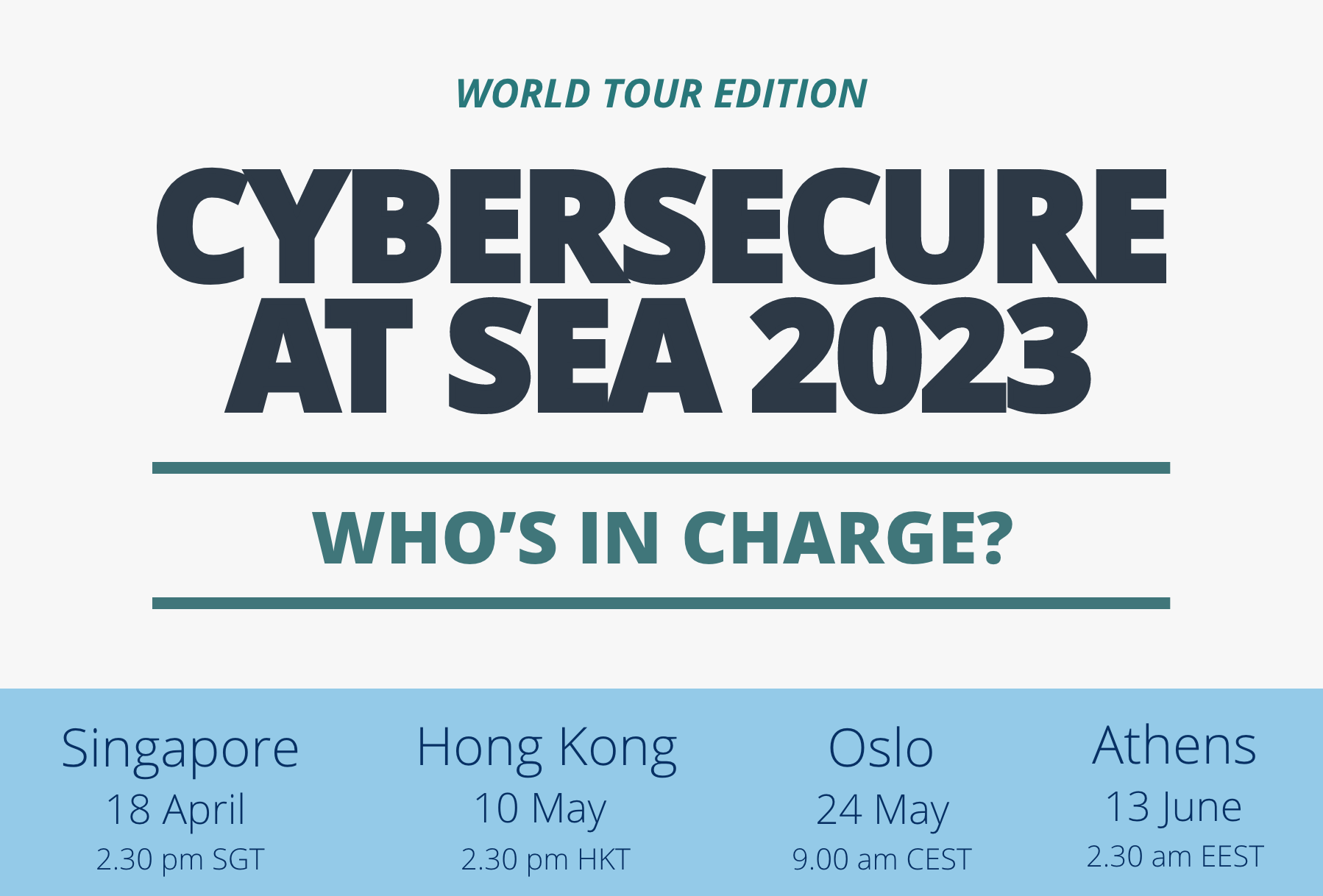 CyberOwl invites you to our annual maritime cybersecurity conference, asking this very question. Cybersecure at Sea 2023: Who's in charge?
Readiness repeatedly comes up as one of the weakest areas in any shipping cyber risk assessment. At the centre of this conference, we will explore the themes of readiness and ownership. Attendees will experience what it is like to survive a cyber incident on fleet operations. We will work through the commercial, operational, legal, insurance, communication and reputational implications of a cyber incident. We will explore what responsibilities and actions each stakeholder in the value chain should own – charterer, shipowner, ship manager, insurer and wider suppliers.
Some of your peers are more prepared than others. How do you compare?
This year we are going on a world tour for an in-person event. We will host events in Singapore, Athens, Oslo, Hong Kong and other potential locations in future.
This is our 4th conference. We promise it will be a sales-free environment genuinely focused on learning, experience-sharing and building a global support network.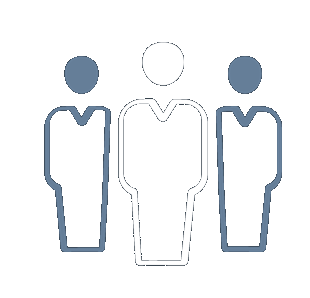 Attended our maritime cyber conference last year
Tuesday, 18 April 2023
14.30 – 18.00 SGT
Park Royal Collection Marina Bay
Wednesday, 10 May 2023
14.30 – 18.00 HKT
Venue TBA
Wednesday, 24 May 2023
09.00 – 12.30 CEST
Venue TBA
Tuesday, 13 June 2023
14.30 – 18.00 EEST
Venue TBA
*The conference content outline serves as a guide only and may be subject to changes at the organiser's discretion.
Register for your local event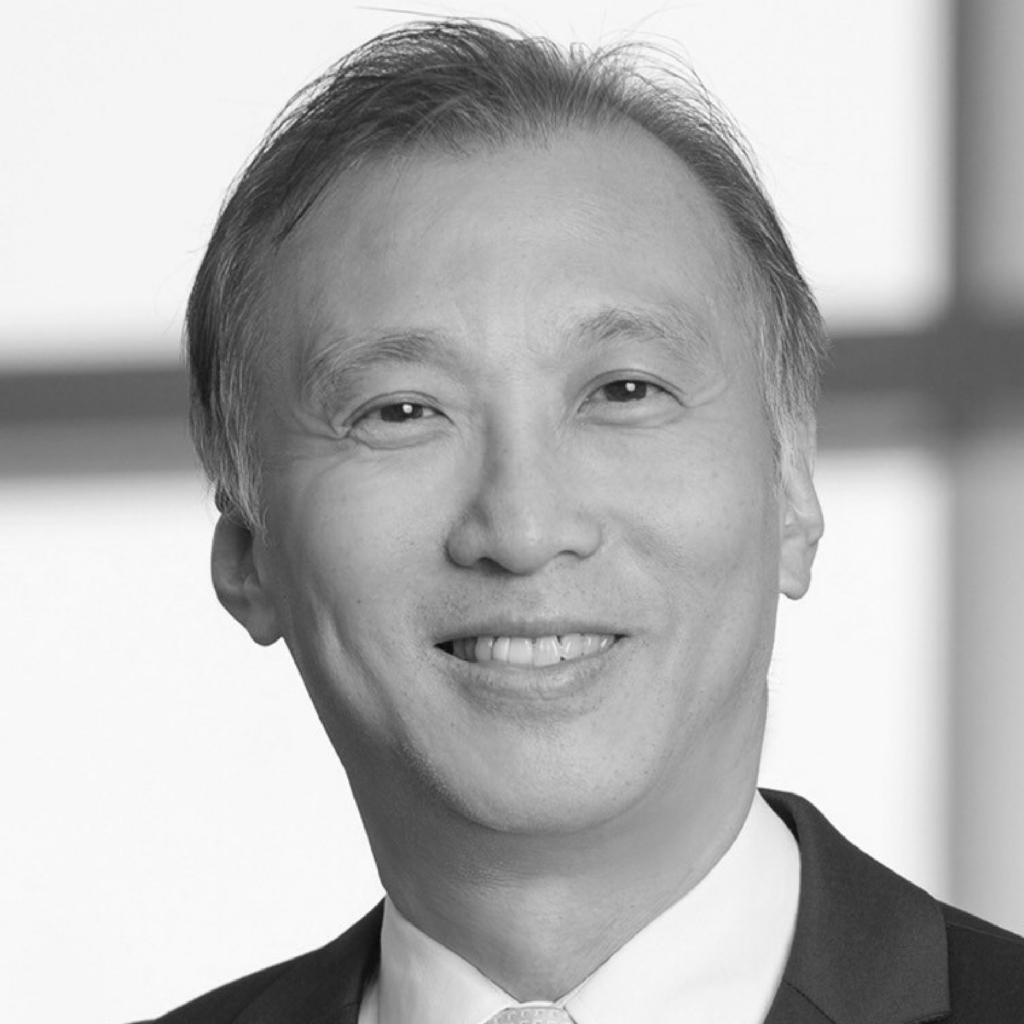 Billy Chiu has been with BW since 1985 and has more than 30 years of experience in the shipping industry. Chiu's current role as EVP oversees the Dry Cargo business, Group Crewing Services, Quality
and Compliance department, Internal Audit, and Asset Management teams.
Chiu was appointed as Director of Commercial and Operations in 2003 and later as SVP of Commercial (Tankers). From 2002 to 2003, Chiu was Chief Operating Officer with responsibility for operations, manning, fleet systems and purchasing. Chiu also oversaw the Corporate Affairs and Compliance division of the company from 2011 to 2016.
From 1995 to 2002, Chiu held senior management positions within World-Wide Shipping Agency (Singapore) Pte Ltd in the Commercial department, including as Vice President, Commercial, from 2000 to 2002. From 1990 to 1995, Chiu was Commercial Manager in World-Wide Shipping's Japan office.
Chiu graduated from the University of Hong Kong with a Bachelor of Social Science degree, majoring in management studies and economics.
He was a committee member with Britannia P&I Club from 2009 to 2014. Currently, he holds a director position at the International Tanker Owners Pollution Federation (ITOPF).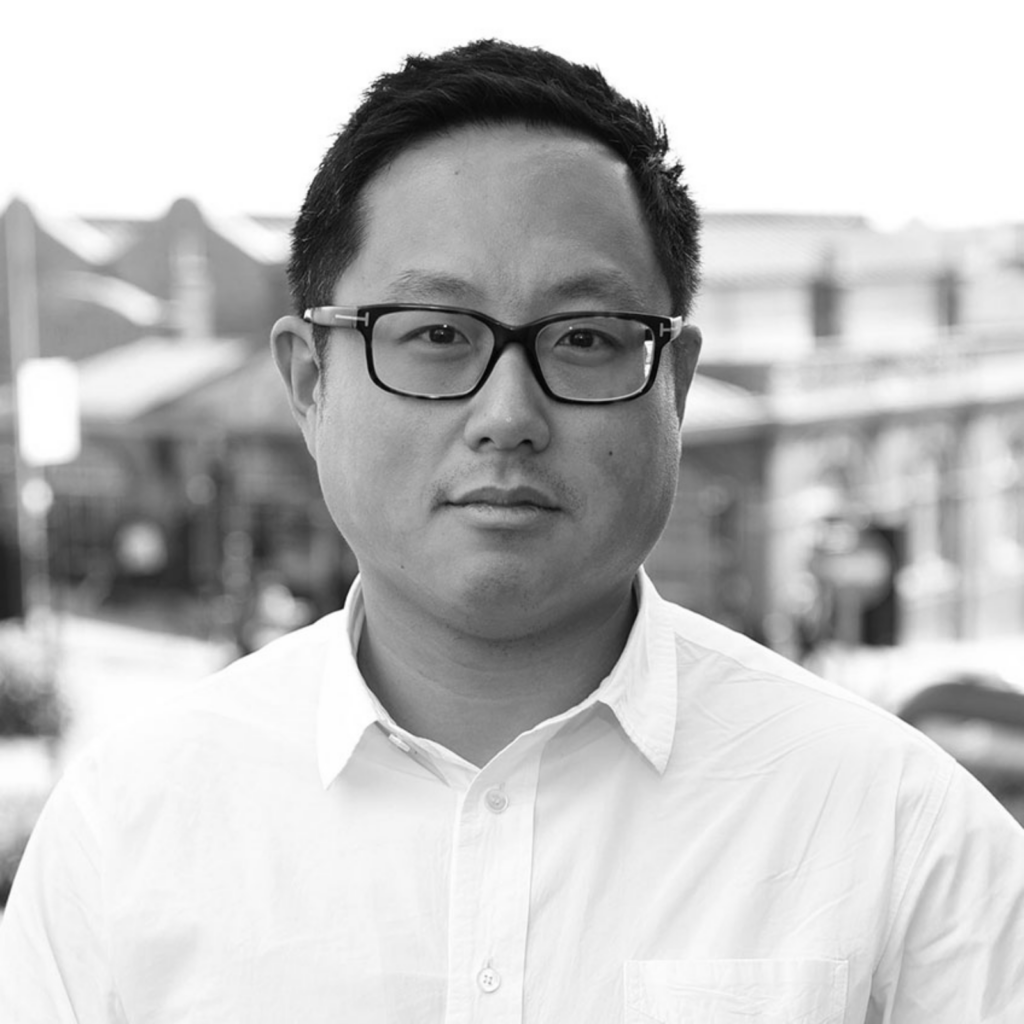 Dan is CEO of CyberOwl, a disruptive startup helping asset operators gain visibility and address the cyber risks to their distributed, remote assets, particularly in the maritime sector.
Dan was previously Associate Director at KPMG, where he focused on the Defence, Security and Industrial sectors, working extensively to develop propositions and commercial strategies for global security, defense, technology and engineering companies such as Northrop Grumman, BAE Systems, Atos and BP.
Dan was also Chair of a Working Group at the IoT Security Foundation, Council Member of the Digital Technology Group of the UK Society for Maritime Industries and Steering Committee Member for the Operational Technology Cyber Security Alliance. He is regularly recognised as a technology leader influencing the sector, including the FT 100 Most Influential BAME Leaders in Technology in 2019.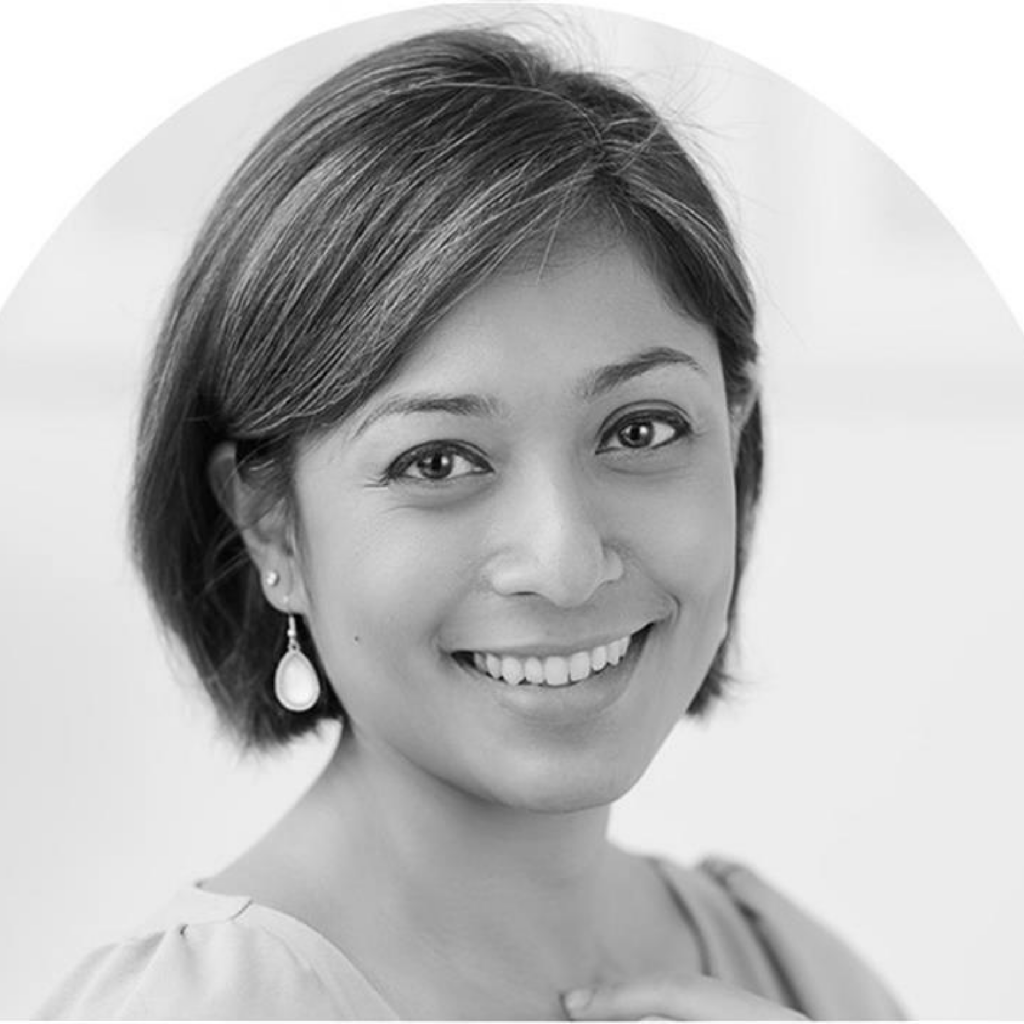 Su Yin's unique career history has seen her move from 15 years in legal private practice to being in-house Counsel with South32 and a subsequent transition to commercial where she now heads up South32's freight team. During this time she has lived in Singapore, Hong Kong, Shanghai and London, fought arbitrations, completed an EMBA course, founded a successful maritime innovation challenge – The Captain's Table – and sought to drive thought leadership in the maritime space by appearing on numerous panels. She has previously been listed by Lloyd's List as a Top 10 maritime lawyer globally, and Next Generation of Shipping Leaders.
Su Yin believes in leading with authenticity and purpose and is on a never-ending journey to evolve in this space.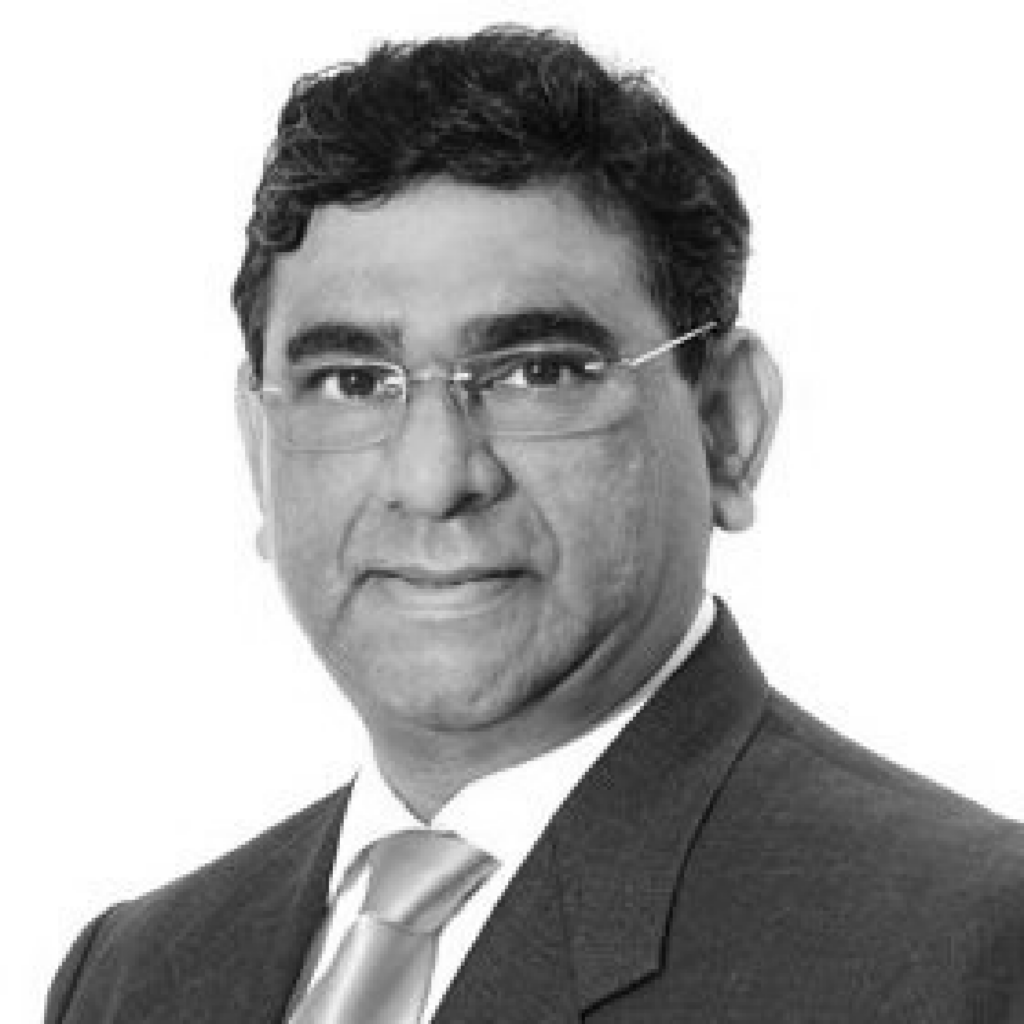 Yatin joined Thome Ship Management as a Chief Engineer onboard one of their managed vessels in 1994 and subsequently joined their office in Singapore as a technical superintendent in 1996. He later worked as a Fleet Group Manager for several years and supervised tankers, gas carriers, bulk carriers, and container vessels. He was Chief Operating Officer of the Bulk Division from 2012 to 2019 and has assumed the role of Chief Technical Officer since late 2019 where he supervises Quality, Marine Safety, Environmental Compliance, Technical, and also IT activities, both shipboard and ashore.
After more than 40 years, Yatin has a wide range of experience within the maritime industry.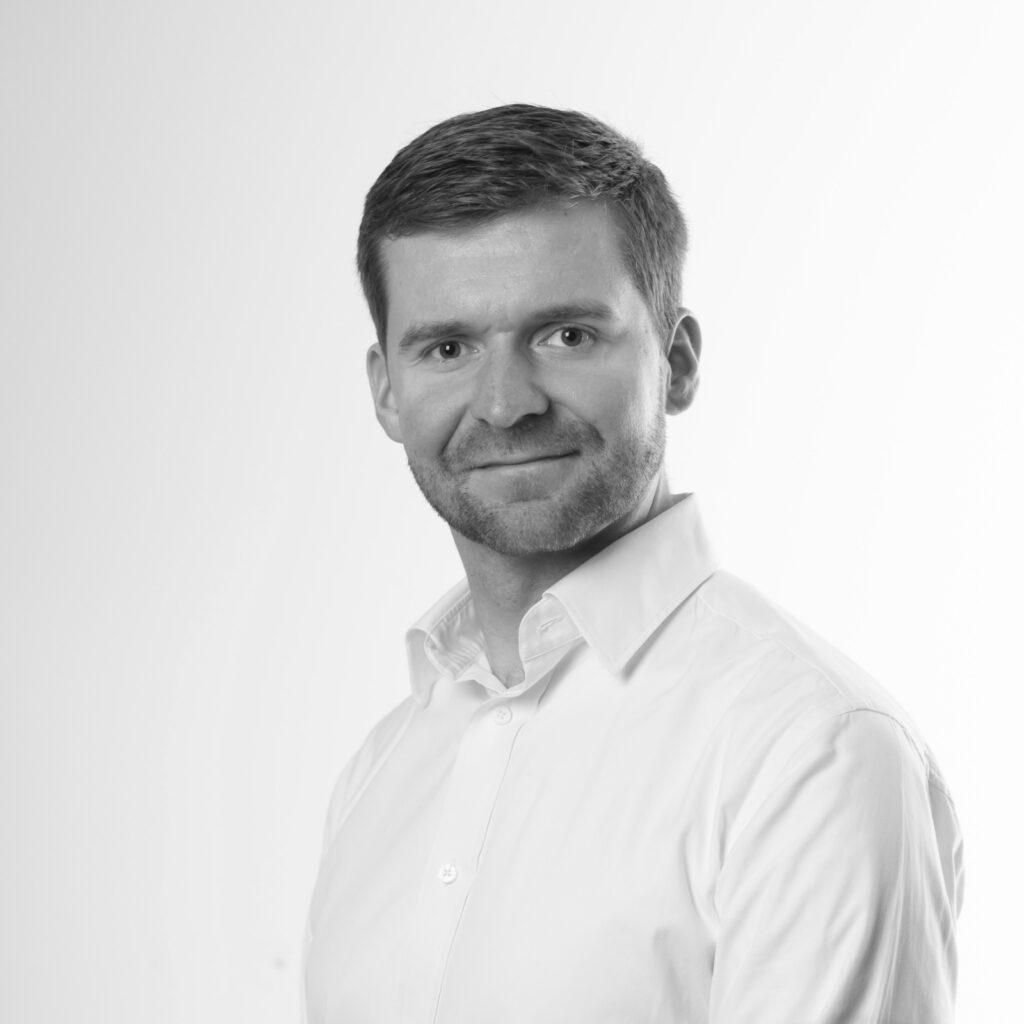 Dustin oversees the operations of our global network of 45 offices and leads our crisis communication team which responds to 200+ incidents a year. He is responsible for our innovation and digitization initiatives, including the development of our rapidly expanding digital training services.
A trusted advisor, Dustin specialises in communications, reputation management and organisational leadership especially in times of challenge or crisis.
Dustin has a Bachelor of Arts and Sciences degree (BASc) specialising in leadership and political rhetoric and a master's degree in communications (MSc) from the London School of Economics (LSE). While at LSE he developed computer models for tracking reputation in the online and print media.
Dustin is an award-winning speaker and a passionate advocate for B2B companies engaging with their ultimate stakeholders – the public.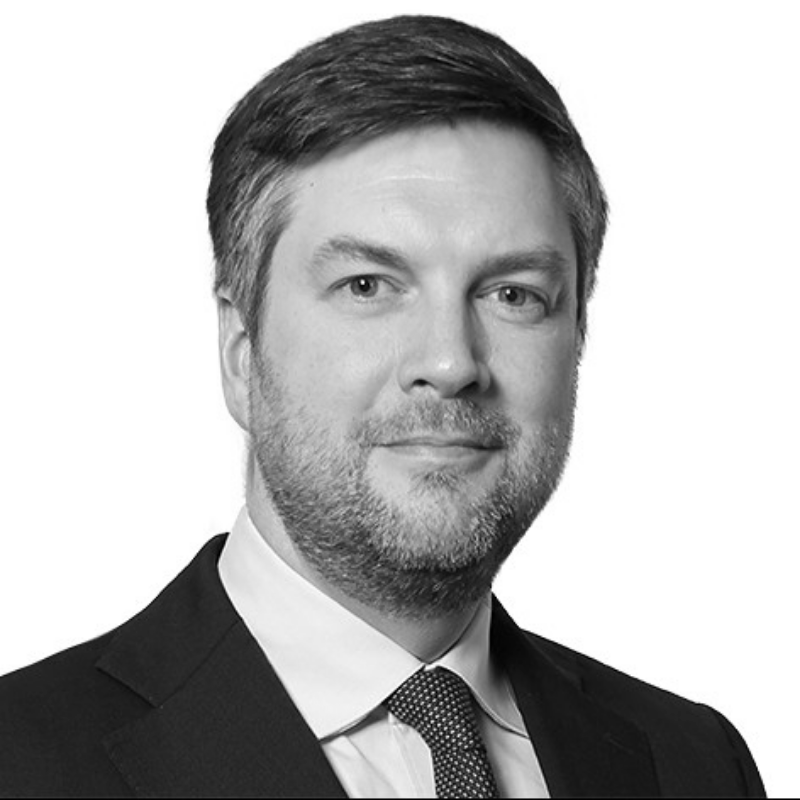 Toby is a member of HFW's Global Crisis Management team and specialises in risk and crisis management/emergency response in the marine and energy sectors. Toby's work involves managing major marine and energy disasters including undertaking the initial response, managing his clients' exposure to civil and criminal liabilities and resolving the subsequent disputes, which are often complex, involving a number of inter-related actions in a number of jurisdictions. Toby is also recognised for insurance coverage and other marine and energy related commercial and contractual disputes.
Toby advises organisations on their risk management, including contractual and regulatory liabilities, crisis management systems, organisational resilience and crisis preparedness. Toby lectures regularly on the subject, both in the UK and internationally and he has been admitted as a Technical Specialist of the Institute of Risk Management (SIRM).
Toby joined HFW as a solicitor in 2001 and became a partner in HFW's Admiralty and Crisis Management Team in 2007. He has practical experience of working as a marine surveyor in Houston. He has also acted as head of the legal team at a leading Lloyd's syndicate dealing with marine, energy and war risks.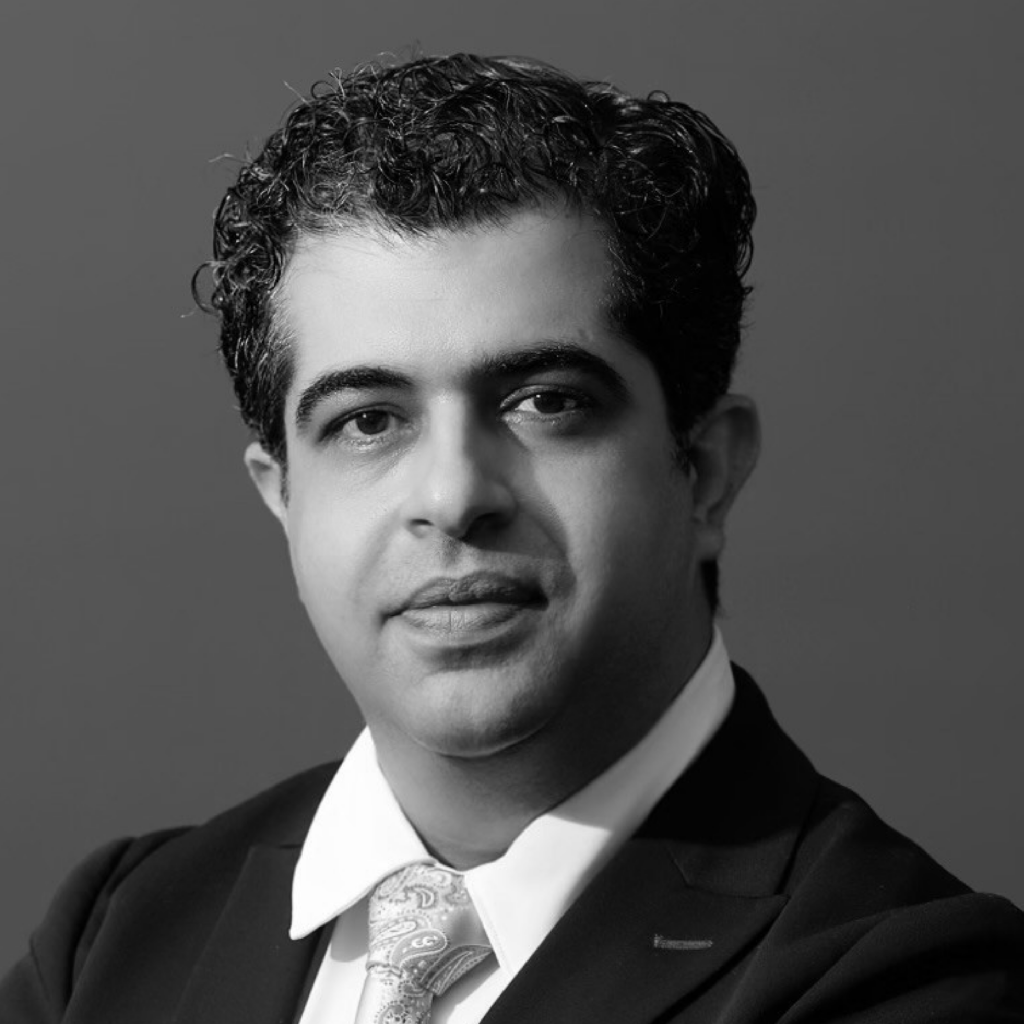 Akshat Arora is a Master Mariner and a maritime professional with over 11 years of sailing experience on a variety of dry cargo ships (bulk carriers, containers, and general cargo ships).
He has been associated with reputed shipping companies and extensively involved with managing aspects relating to maritime safety, security, commercial operations, vetting & technical management.
Akshat joined the Standard P&I Club in 2014. He is based in the club's Singapore office and works in the Loss Prevention department with a particular focus on cargo claims, environmental compliance, maritime safety and security related matters.
In recent years, Akshat has been closely involved with issues related to cyber risk management, sustainable ship recycling, maritime decarbonisation, dry bulk and container casualty-related matters.
He is an associate fellow of the Nautical Institute (AFNI), and a member of the Singapore Shipping Association (SSA) technical committee and cyber security sub-committee.
He regularly speaks at shipping industry events on behalf of the Standard P&I Club. He has also written many loss prevention publications and guidance which are published on the club's website and various industry forums.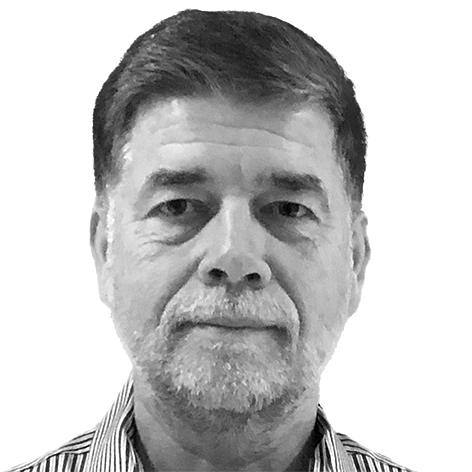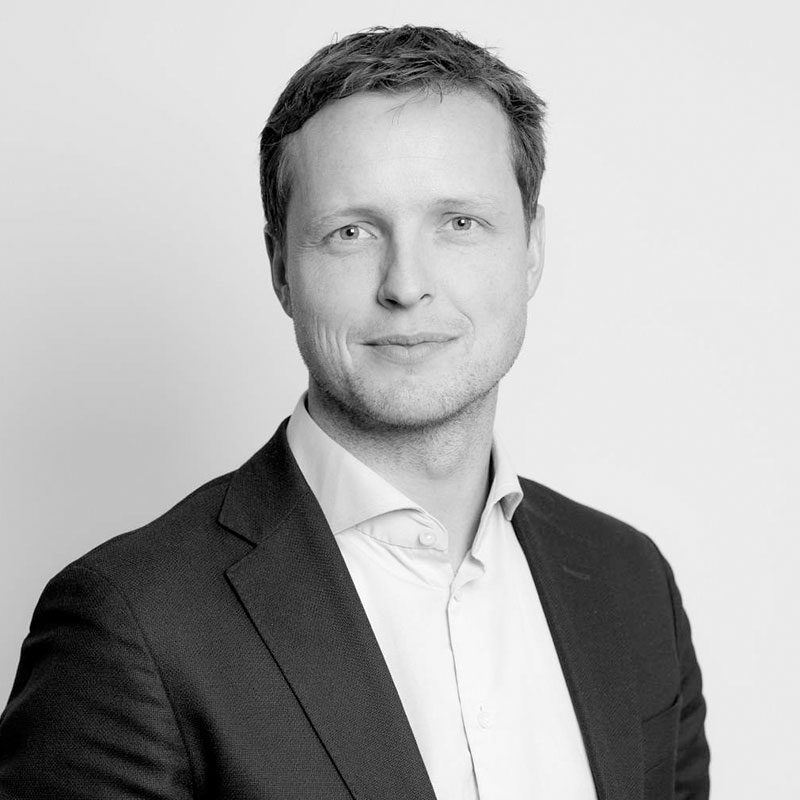 Lars has 10 years' experience with the Norwegian Armed Forces, most of which was spent in the Norwegian Special Forces. He has a BsC in Finace and was the project lead for the establishment of NORMA Cyber and now serves as the Manging Director for the company.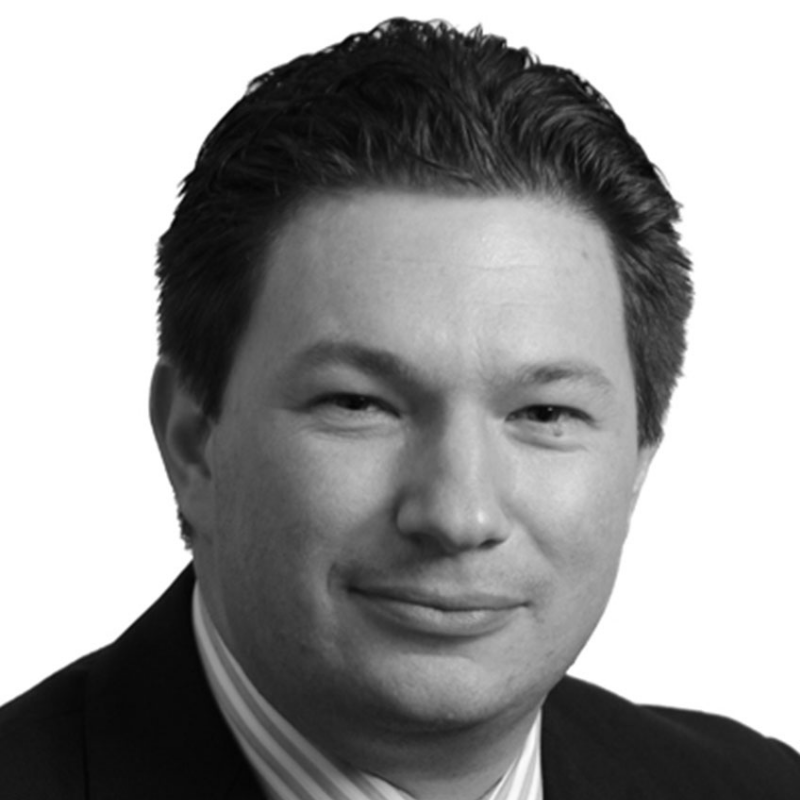 Tom graduated in 1995 after which he worked for a firm of naval architects on the South Coast of the UK for two years. Tom joined HFW in 2002, and qualified in 2004 into the Admiralty and Crisis Management team. In addition to a number of high profile marine litigation cases, Tom has worked on a number of complex technical issues varying from construction disputes involving commercial vessels and superyachts, decommissioning and disposal of marine assets, insurance claims, towage disputes, transportation of yachts and various offshore units, contractual disputes and salvage cases including: "Thunder Horse", "Deepwater Horizon", "Maersk Honam", "Ever Given", "Northguider", "Stellar Banner", "Yantian Express" and the cargo ex "Tilawa".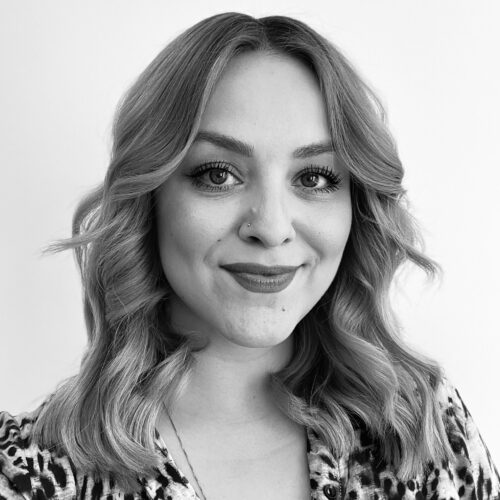 Janni is an experienced communications professional, specialising in corporate reputation, crisis management, and stakeholder engagement. As a Crisis Response Manager, she supports our clients with their crisis communications and delivers media training.
Prior to joining Navigate Response, Janni worked in corporate affairs across complex and heavily regulated industries, including logistics, utilities, energy, and environmental services. She is passionate about reputation capital and the role it plays in business resilience and continuity.
Janni graduated with a Bachelor of Science (BSc) in business administration from Stockholm University, and a Master of Arts (MA) specialising in corporate communications, marketing and public relations, from the University of Leeds. While pursuing her MA, Janni researched the crisis management of data breach incidents and their impact on reputation. She has also studied in Finland and Indonesia, and has professional qualifications in crisis and leadership from MIT and the University of Oxford.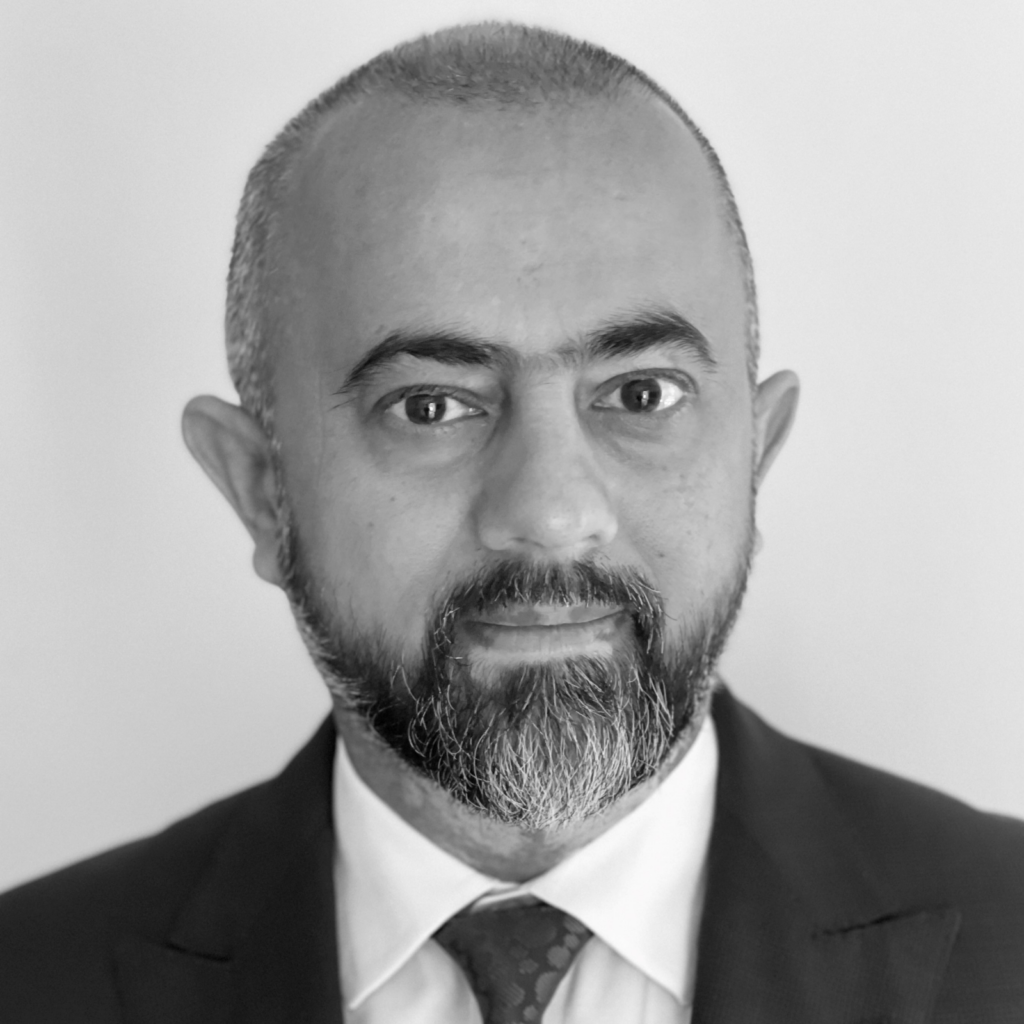 Shamsheer is a Master Mariner with more than 23 years of sea going experience, with the last 4.5 years in command of the Vale Max Ore Carriers (400 K, VLOC's) for Oman Shipping.
Post swallowing the anchor, Shamsheer worked for a German Ship Owner as a Quality manager for a fleet of 33 bulk vessels. Following this, as both their Designated Person Ashore (DPA) and CSO (Company Security Officer). During this time, Shamsheer oversaw the development and integration of the Cybersecurity Manual into the safety management system and subsequent implementation of Cyber Security on board vessels.
Shamsheer brings a wealth of practical experience to this position at HFW and is particularly interested in sustainability in shipping, having led the monitoring and reporting of EU MRV and IMO DCS regulations (fuel consumption reporting) for the fleet since they came into force. He is qualified as an Internal Auditor of Integrated Management Systems in Maritime, Designated Person Ashore (DPA) and as an Internal Auditor ISM-ISPS-MLC for shipping companies.
Shamsheer's specialises in the investigation of collisions, personal injury, MLC complaints and insurance claims and has worked both in Hamburg and Singapore.
Henry specialises in international commercial dispute resolution, with a particular focus on both "wet" and "dry" shipping issues. He has experience representing salvors, shipowners, P&I Clubs, commodity traders, brokers and logistics companies. He has worked on disputes arising from collisions, groundings, cargo contamination, charter parties, bills of lading, pipeline and other offshore installations and commodity supply contracts.
Henry has represented clients in both English High Court proceedings and international arbitration under LOF, LMAA and LCIA rules. During his training contract, Henry was seconded to the firm's Geneva office where he worked on a broad range of commodity disputes including Taurus Petroleum Limited v State Oil Marketing Company of the Ministry of Oil, Republic of Iraq [2017] UKSC 64 before the Supreme Court. The case dealt with the situs of a debt owed under a letter of credit. He also spent time in the firm's transactional shipping and contentious insurance teams.
Henry is qualified in England and Wales.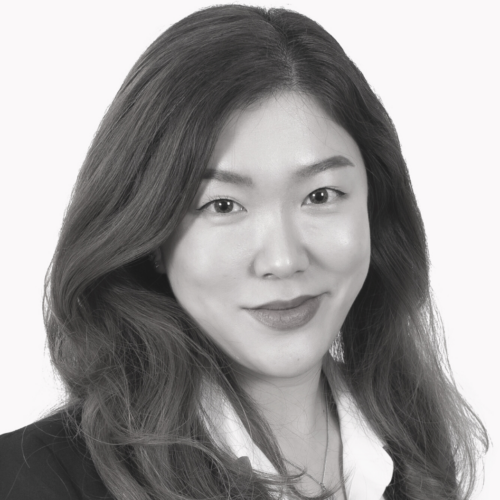 Jasmine is a Crisis Response Manager based in the Singapore office. She manages the crisis media response for maritime incidents, and delivers crisis media training for our clients.
Prior to joining Navigate Response, Jasmine worked in law-enforcement, and is an experienced investigator and incident manager. She has worked on numerous sensitive cases, several of which garnered significant local media attention, including serious hurt offences, inter-jurisdictional incidents, and medical malpractice, amongst others.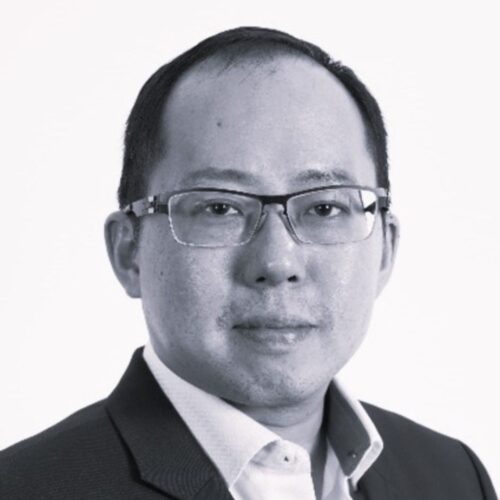 Based in the Singapore office, Casey provides crisis communication and reputation management counsel for maritime incidents and delivers crisis media training to our clients.
He advises clients across a broad spectrum of incidents including MARPOL violations, geopolitical risks, kidnap for ransom and hijacking, collisions, contraband, etc..
Casey read political science for his Bachelor of Arts degree at the National University of Singapore and received his Master's degree in Communication Management from the Singapore Management University.
Casey speaks English, Chinese and Teochew.
In collaboration with trusted experts from

What attendees are saying…
IT Manager

"The first virtual conference on maritime cybersecurity with a global audience. I was impressed by the quality and substance of the presentations. I'll be back for next year's conference."
Technical Director

"Leaders from all corners of the maritime industry shared everything from practical solutions to cybersecurity challenges to long-term strategies."
IT Manager

"The first virtual conference on maritime cybersecurity with a global audience. I was impressed by the quality and substance of the presentations. I'll be back for next year's conference."
Compliance Manager

"A must-attend event designed to provide an updated understanding of the cyber risk and share practical insights on how others in the maritime sector continue to cyber secure their vessels and prepare to comply with the cyber security requirements of IMO 2021."