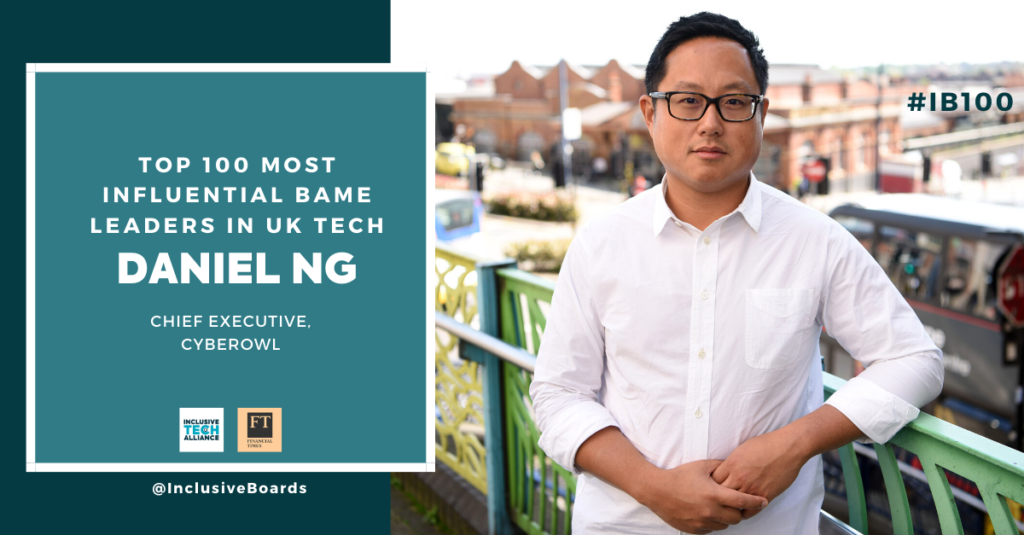 Daniel Ng, CEO of CyberOwl has today been announced as part of the #IB100 – a list of the top 100 most influential black, Asian and minority ethnic (BAME) leaders in the Tech Sector. Now in its second year, the list has been produced by board appointments firm Inclusive Boards in partnership with the Financial Times.
The list will be published online, and in print in the UK and Europe as part of an FT special report into Diversity in Tech. In 2018, Inclusive Boards research found that 74.5% of Boards in the tech sector had no BAME members and that BAME people made up just 8.5% of senior leaders (Directors and Executives) in the sector.
As part of their Inclusive Tech Alliance (ITA) campaign, Inclusive Boards is calling on tech companies to implement inclusive working practices to fix the progression challenges currently facing BAME individuals from moving to senior leadership positions. This year's #IB100 list showcases role models to encourage and inspire tech's future BAME senior leaders.
Elizabeth Oni-Iyiola, Development Director at Inclusive Boards, said: "Technology is one of the fastest-growing sectors in the UK and beyond. It's crucial that as these sectors expand so too does the level of representation within them. Daniel Ng and those featured today are groundbreakers, changemakers and role models within the industry and we are proud to include them in this years #IB100."
Daniel Ng, CEO of CyberOwl, said: "It is an honour to be recognised. Clearly having role models is important, but in reality, this isn't about individuals. There is a wider, more important point about diversity. The cyber security sector has a bad habit of being really exclusive. We need to break out of that mindset if we are going to tackle the skills gap head on and have a fighting chance in the face of escalating threats."
Those featured in the list include the most influential leaders from tech companies such as DeepMind, Google, IBM, Larsen & Toubro Infotech, Microsoft, Monzo, Rolls-Royce, Twitter and Seedcamp.
To find out more about our product, Medulla, email info@cyberowl.io or call us at +44 (0) 208 050 8042