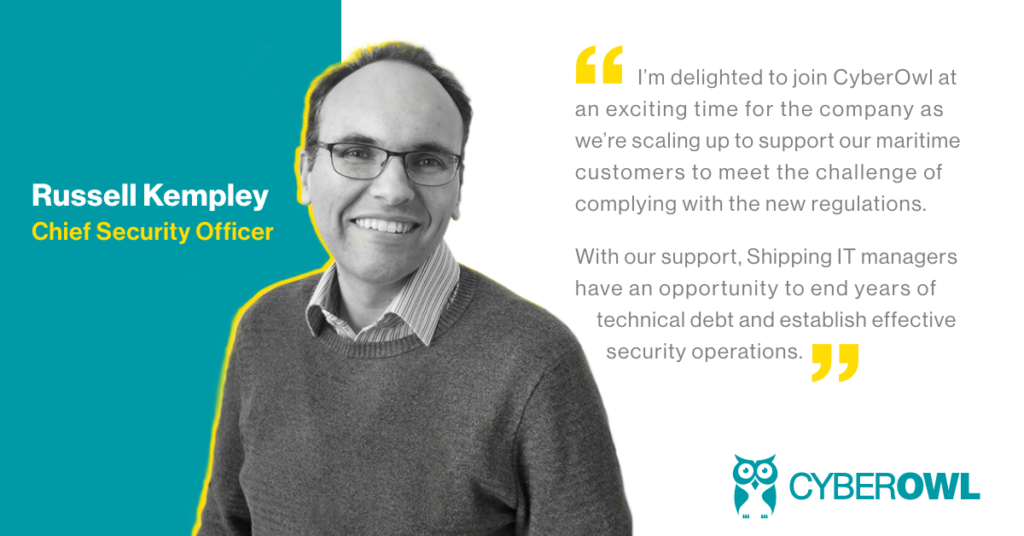 CyberOwl, an emerging specialist in cyber security for maritime systems and operational technology, is delighted to announce the appointment of industry veteran Russell Kempley as Chief Security Officer.
With increasing digitalisation and connectivity, shipping fleets risk becoming an easy and lucrative target for a cyber attacker. This has driven the International Maritime Organisation (IMO) to introduce a global regulation for all commercial shipping operators to implement a cyber risk management system by 1 January 2021. While this is a positive development, and should improve the overall cyber resilience of the sector, the journey to compliance is far from easy. Ship operators have limited experience and capacity to develop and maintain good cyber resilience of their fleets.
Russell will bring expertise to help shipping companies with the strategic and technical support they need to face these challenges, comply with the IMO 2021 cyber requirements and get the best value out of working with technologies, such as CyberOwl's Medulla.
Daniel Ng, CEO of CyberOwl, said "Russell has a proven track record of developing and utilising a wide range of cyber security technologies. Many shipping IT Directors are wrestling with the challenges of deciding what cyber capabilities to invest in, how they impact day-to-day operations and how they prove to vessel inspectors that their cyber controls are working. Russell has exactly the experience to help IT Directors cut through the noise that is currently flooding the maritime cyber domain and develop some really practical steps towards cyber resilience. We are thrilled to have him on board."
Russell joins CyberOwl from Prudential where, as Director for Strategic Cyber Threat Intelligence, he established new group-wide capabilities for cyber security across Prudential's operations globally. Previous to that, he was Head of Cyber Technical Services at BAE Systems where he established a team of experts to deliver security research, incident response, threat intelligence, penetration testing and data science.
"I'm delighted to join CyberOwl at an exciting time for the company as we're scaling up to support our maritime customers to meet the challenge of complying with the new regulations." said Russell. "With our support, Shipping IT managers have an opportunity to end years of technical debt and establish effective security operations. "