CyberOwl, a specialist in cyber risk management of maritime and offshore systems, has won an award by the Cyber Security Agency of Singapore (CSA) to further innovate solutions protecting shipboard assets, working together with industrial end user partner, Eastern Pacific Shipping. The innovation will focus on "decentralising" cyber risk management, so that the crew can ensure safe and secure operations of the vessel without having to rely on 24/7/365 central support.
The CSA launched the Cybersecurity Industry Call for Innovation (CyberCall) to catalyse the development of cutting-edge cybersecurity solutions that would not only meet national cybersecurity and strategic needs, but also have the potential for commercial application. To remove cost as a barrier to innovation, CSA awards up to S$1M for the co-development of promising projects.
The CyberCall 2021 award, was officially given at the Cybersecurity Innovation Day 2022 by Senior Minister of State, Ministry of Communications and Information, Dr. Janil Puthucheary on 31 August. This is the first CyberCall which has set out an industry challenge specifically focused on securing onboard systems on ships. The challenge statement sets out particular hurdles in managing the cyber risk of remote, operational assets in shipping, and has been co-developed with Eastern Pacific Shipping, one of the world's largest privately-owned ship management companies with a managed fleet of over 20 million deadweight tonnes supported by 6,000 sea and shore staff.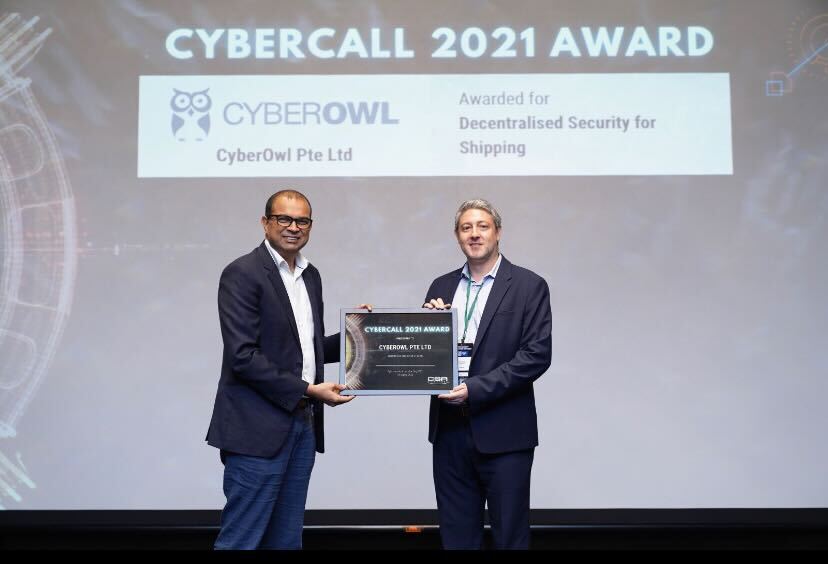 The general approach for cyber security is to provide more control to "the command centre", centralising more data, setting tighter policies and imposing more restrictions from the centre. This is not practical in shipping, as it forces asset owners to invest significant resources in redesigning legacy systems, build large security operations teams and restricts the operational flexibility needed to keep assets running.
CyberOwl is turning this approach on its head and will be developing technologies to decentralise cyber risk management as part of this initiative. This empowers crew to be responsible for maintaining cyber hygiene and compliant behaviour and taking minimum viable action during an incident to ensure safe operations, without having to rely on 24/7/365 central support.
This builds on CyberOwl's experience working with many of the world's largest maritime and offshore companies across the UK, EMEA and Asia Pacific. Together, they are supporting these companies to manage the cyber risk of shipboard systems on the c.2,000 vessels they manage. In 2022 so far, this represents growth of c.5x deployed vessels and a further c.3x in bookings.
Daniel Ng, CEO of CyberOwl, said "This CSA CyberCall brings together Singapore's leadership in the maritime sector and CyberOwl's unparalleled experience in cyber securing shipboard systems. Our mission at CyberOwl is to make it easier for shipping companies to manage the cyber risks of their remote, operational assets. This initiative is a natural extension of that mission and helps us take an active role in advancing cyber resilience across the sector."
Speaking at the Cybersecurity Innovation Day, Dr Janil Puthucheary, Senior Minister of State, Ministry of Communications and Information in Singapore, said: "Another interesting solution to Cybercall 2021. UK-based company CyberOwl will be setting up an R&D team here, recruiting Singaporeans to work on an automated solution to detect vulnerabilities in computer systems onboard shipping vessels. CyberOwl's automated solution will help ship operators to manage and respond to cybersecurity incidents while out at sea."
Max Wong from Eastern Pacific Shipping, said "Congratulations to CyberOwl on this milestone achievement. The CSA CyberCall brings together the industry's best solution providers to co-develop innovative solutions. Being selected from this impressive group is a testament to CyberOwl's commitment to improving cyber hygiene in the maritime sector."