IMO 2021 has arrived. The shipping community have been anticipating this for a while now. The fleet operators that wanted to get ahead of the deadline have been rushing to fulfil at least the minimum perceived requirements to comply. Some of them are getting it right – designing and properly implementing security controls that actually reduce the cyber risks of the shipboard systems. Others have taken a more confused approach, with the worst involving just superficial paperwork – compliance, not actual security.
This should not be a surprise. There has been a lot of guidance produced on cyber security in the maritime sector. While many of these are helpful, most are aimed at providing recommended checklists of "what you need to do" to secure shipboard systems, rather than practical, step-by-step help on "how to do them." The list of recommendations can feel endless and daunting. So it can paralyse fleet operators into inaction.
Why are we setting up this campaign?
At CyberOwl, we have been supporting many shipping companies on their journey towards cybersecurity maturity. Along the way we have developed knowledge, tools and resources that we believe are useful for the whole sector. These are methodologies, frameworks, templates, libraries or pieces of technology that can provide clarity and a practical way forward.
We are on a mission to help the shipping sector improve the cyber resilience of their shipboard systems. So we are launching a campaign to provide shipping IT Managers and Security Officers with a free toolkit that they can use to move their own programmes for cybersecurity of shipboard systems forward. From talking, to doing. From theory, to practice. 
Why should you engage with this campaign?
Our aim is to address a range of cyber risk management areas for shipboard systems. We will break the content down into bitesize, practical chunks, so you can choose whether to take incremental steps or embark on a whole cyber transformation programme at once.
The tools and resources will be aimed at the "how". They will be designed to give you a "leg up" and help you either get started or to improve your cybersecurity programme for shipboard systems. The tools will be designed for self-service, so should help you achieve incremental security improvements on your own. But if you would like our help or our recommendations of other experts in the sector that we trust, please reach out. 
As this campaign evolves, we will be led by you. Tell us how the tools and resources are working for you and how they can be improved for the whole shipping community. Tell us areas where you would like additional tools and resources.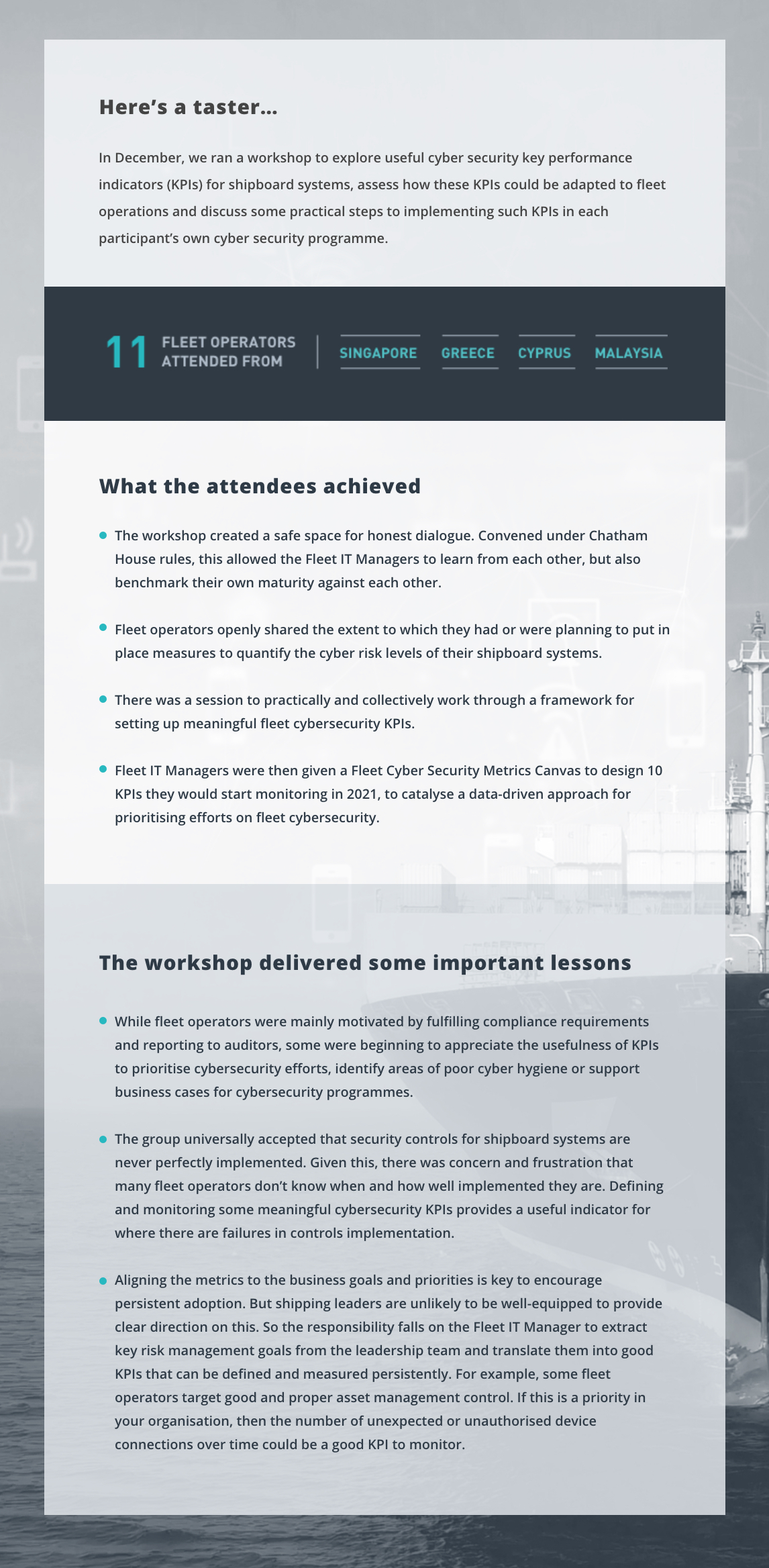 What attendees are saying…
"…out of the approximately 7 workshops I've attended during the last quarter I would rate CyberOwl's cyber security KPIs as one of my top 2, as it was structured in such a way that allowed attendees to engage and learn from experts and from each other."

"The workshop created a safe space for an open dialogue, and as promised the session worked through a practical framework for setting up meaningful fleet cybersecurity KPIs. I believe that the effort should be continued and I look forward to the next workshop."
Don't worry if you have missed out the December workshop, we are running another session. You can see the details below for the next Cyber security KPIs and for the upcoming workshops where we are introducing new tools and resources.
Upcoming workshops:
Cyber security KPIs | Measure the cyber hygiene of your shipboard systems
Details: Tuesday, 26 January 2021, 8.00 am London Time
What you will achieve:
Learn about useful cyber security KPIs for shipboard systems 

Assess how these KPIs could be adapted to your operations
Cyber Risk assessment | Assess the risk of your shipboard systems
Details: Thursday, 18 February 2021, 8.00 am London Time
What you will achieve:
Perform an initial high-level cyber risk assessment for shipboard systems to kick off your cyber security programme.
Maritime cyber incident playbook | Design a cyber incident response plan that works for shipping
Details: Thursday, 11 March 2021, 8.00 am London Time
What you will achieve:
Design a cyber incident response playbook that works for shipping

Document the playbook as an initial set of procedures for the safety management system
Select and sign up which workshops you would like to attend by clicking below.
Sign up for the next workshops