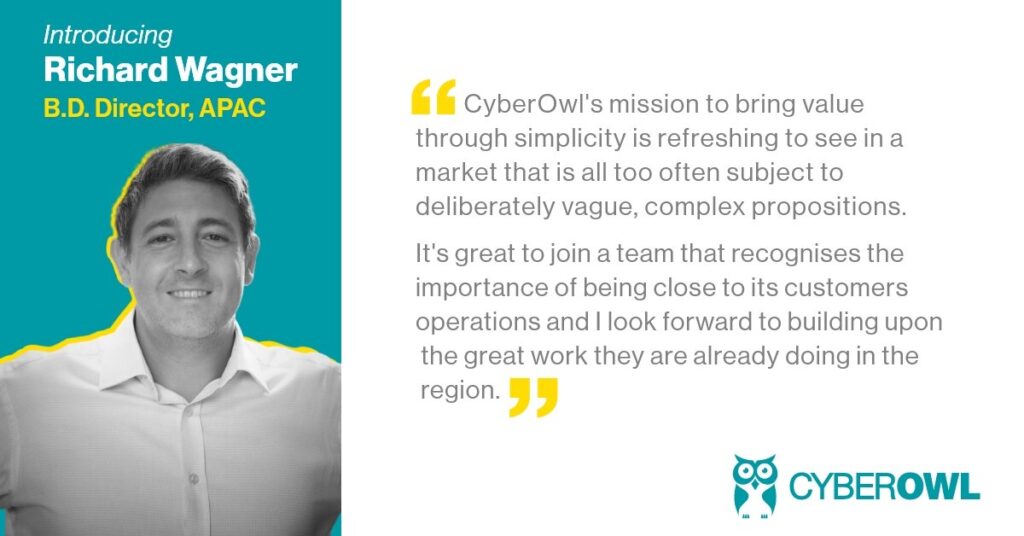 CyberOwl, an emerging specialist in cyber security for maritime systems and operational technology, is delighted to announce the opening of its international office in Singapore, and the appointment of experienced technology and maritime business leader Richard Wagner as Business Development Director for the APAC Region.
The decision to scale comes after a sustained period of positive growth in the region, where CyberOwl now provides its vital shipping cybersecurity technology to some of the regions biggest fleet operators.
The latest move by CyberOwl to formalise its operations in the region will come as no surprise to many, with Singapore recently being crowned as the world's premier maritime hub after topping the Xinhua-Baltic International Shipping Centre Development (ISCD) index for the seventh year in a row.
Richard Wagner joins the team from his role as Sales Director with newly rebranded Voyager Worldwide, formerly Global Navigation Solutions (GNS). Richard was responsible for driving growth in Voyager's customer base and developing existing and new strategic technology partners. Richard brings over 20 years experience in sales leadership and senior management roles in a wide range of technology business sectors.
Daniel Ng, CEO of CyberOwl, said "As the maritime sector increasingly becomes targeted by cyber crime, there is mounting urgency for maritime organisations to protect their operational onboard assets. Establishing a permanent presence in Singapore will enable us to work more closely with the fleet operators in the Asia Pacific region. A senior industry figure like Richard taking the decision to join the team is testament to the importance of the work we are doing. We are already looking forward to growing our team further in the region soon."
Newly appointed Business Development Director for APAC at CyberOwl, Richard Wagner, said "CyberOwl's mission to bring value through simplicity is refreshing to see in a market that is all too often subject to deliberately vague, complex propositions. It's great to join a team that recognises the importance of being close to its customers operations and I look forward to building upon the great work they are already doing in the region".